We are very excited to announce that Force.com Sites is
generally available today!
There are many technical resources already available so I
want to share with you a behind the scenes look at the Force.com Sites story.
It was 18 months ago, late January 2008, when we were
brainstorming about how we could offer the Salesforce Ideas product with
anonymous access features. We decided to form a small scrum team to work on
this project. By mid February 2008, specifications were written and prototypes
were built. During this process we also had an "aha" moment. What we could
offer would be far beyond just the public Ideas product. It would be public
websites on the Force.com cloud.
One Friday in April 2008, we did our first demo to our CEO
Marc Benioff.
Marc told us that he wanted several demos for the upcoming
management meeting. We only had couple of days and we would need to build
several demos including our first ever Facebook application. We created a task
force that included platform evangelists, product managers and a user
experience designer. Two days later, flows were defined and our first Facebook
toolkit was ready for a test drive. Steve Fisher, SVP of Technology, wrote our
first Facebook applications "Ideas Wall" and "Churchill Quotes" over the
weekend. Demos at the management meeting were a "Home Run", adrenalin was
running high and our lives got suddenly busy. We made plans to announce the
developer preview program during the Dreamforce 08 conference. This meant we
would do a special release, create an alpha program with selective partners and
customers, while keeping it all quiet.

Our first customer was the Developer Marketing team.
Developer.force.com has been running on sites since April 2008. Around the same
time, I received a call from Tom Wong, our VP responsible for Dreamforce. He said we
needed to be ready to run parts of the Dreamforce Web site – registration,
agenda builder, kiosk sites and mobile concierge. Our lives got a little bit
busier. We also moved Starbucks' and Dell's public Ideas implementations
(MyStarbucksIdeas and Dell IdeaStorm) to Force.com Sites before the Dreamforce
'08 conference. About two weeks before Dreamforce, we were ready. Partners had
produced great sites, the special release was completed, and the caching
integration was in place. Dreamforce 08 was one of the highlights of our
professional lives. Demo booths were covered with curtains to be opened only
after the Keynote session. With Monday Night Sites Competition and hands-on
training sessions, we were officially in the developer preview.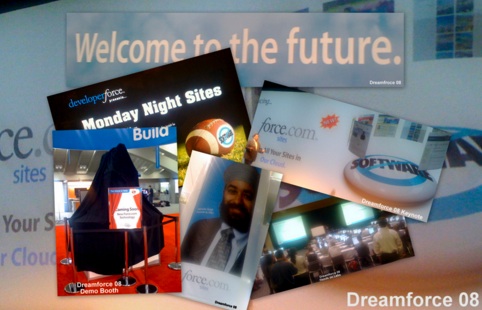 3,000 people attended the developer preview webinar and as
of today, more than 5,500 developer preview applications have been submitted.
In January 2009, we worked on two exciting projects around
the inauguration time.
First, the Citizen's Briefing Book, a virtual white paper,
was created by engaged citizens to share their ideas with the incoming
administration. 125,000 users submitted more than 44,000 ideas and cast more
than 1.4 million votes, in only one week, with the most popular ideas
accumulating tens of thousands of votes each.
This was a temporary, purpose-built Web site designed to be
live until the Presidential Inauguration. When the transition team
announced the site publicly, we saw a peak of 149 views per second!
The second project was Starbucks' pledge5 campaign website.
It took Starbucks only one month from concept to go live with Force.com Sites.
Starbucks passed their 1,000,000 pledged hours goal in five days, with hundreds
of thousand visitors donating via their Web site and their Facebook
application.
We did notice the 'Oprah effect' when the pledge5 campaign
was highlighted during the Oprah show and again, everything worked smoothly.
We started the customer pilot program in February 2009 with
our Spring '09 release. First we announced we would only select 30 customers
from different geographies, with different use cases. However, we received more
than 300 nominations and we ended up working with 85 customers. They have built
amazing Web sites and we thank them sharing their feedback with us and helping
us to make Force.com Sites a better offering for all of our customers. You can
find some of these sites at http://developer.force.com/sites.
We have been waiting for this day for the last 18 months, by
no means is the journey over, in fact it's just starting. Please let us know what kind of sites
you will build and share your ideas with us.
Thank you,
Bulent Cinarkaya
Force.com Sites Product Manager