The excitement and interest in learning about the Salesforce Platform drove more than
700 developers to the first India Developer week (#indiadevweek). We had a mix of Force.com, .Net, Java & PHP developers, Salesforce.com admins as well as freshers. Many came from local cities, but others traveled a whole day on trains and buses from cities that were more than 1500km away.
The India Developer Week started in New Delhi with Saurabh Pandey, our new use
r group leader launching the New Delhi Salesforce Platform Developer User Group. Over 100 developers got together to hear about the Salesforce platform & technologies from Kavindra Patel, salesforce.com, Abhinav Gupta & Ankit Arora, Force.com MVPs and Saurabh & Arun Pandey, Navatar Group. It was a great evening of food, fun & learning.
Next on our tour was the Salesforce Platform Developer Workshops in Hyderabad,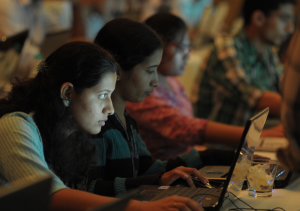 Pune, and Bangalore. More than 600 enthusiastic delegates attended the workshops to learn how to build next-generation applications the platform. Hands-on sessions at the Developer Workshop included using Scheme Builder, Mobile Apex/Visualforce and Heroku Java integration. CloudTrivia was a hit with great participation and cool giveaways. Checkout the photos from the event.
Key community leaders attending the workshop showed interest in starting Salesforce Platform developer user groups in their own city. By the end of the last workshop, we helped launch a total of nine developer user groups in Bangalore, New Delhi, Sri Lanka, Jaipur, Hyderabad, Pune, Mumbai, Kochi and Chennai.
The July India Develop Week was just unbelievable. We encourage all India developers to plug into the Salesforce Platform developer channels (Twitter: @forcedotcom; Facebook/forcedotcom; developer.force.com; heroku.com) for ongoing networking & learning.