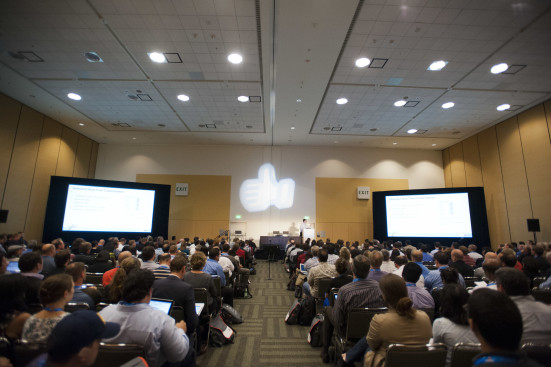 Now that the official Agenda Builder is live and developers can start compiling their calendar for Dreamforce, we will be highlighting sessions over the next couple of weeks. To kick things off, we wanted to point out some sessions that might be filling up fast and developers might want to get in on the ground floor, so to speak. This is, of course, just a small sample of the content available for you in Agenda Builder for the DevZone.
To register for these sessions, you can use the links provided here below the description to go right to the session in Agenda Builder. You'll need to login with your DreamEvent credentials first. If you have not registered for Dreamforce yet, you can (at the time of this writing) get in on the action by registering with our developer promo code.
Naturally, the first thing every developer should mark on their calendars is the Developer Keynote:
Now here are some sessions by topic:
Career Day
A hot topic at every Dreamforce, learn how you can advance your career and the careers of your peers:
Teach the World To Code
Monday, November 18th: 9:15 AM – 9:45 AM
Moscone Center West, Community Theater
We need more developers! Join us to hear why, and learn about the non-traditional ways that organizations like Coursera, Khan Academy, and Girl Develop It are creating more developers. If you're a developer, you'll see how easy it is to inspire someone else to love programming as much as you do. If you aren't a developer, maybe you will be soon.
Register for this Session | Tweet this Session
There is also an event on Sunday featuring a panel of women technologists:
Apex and Visualforce
Dreamforce 2013 is going to cover a wide range of technologies, but when it comes to our core tech: it's better to register early. Here are a few sessions you might want to make sure you've to seat for:
Identity and Internet of Things
OK, I'll be honest – I just tied these two topics together for the sake of alliteration. But they're both going to be big at Dreamforce, so here's a few to carve out on your calendar:
But wait, there's more…
Quite a bit more, actually, as we roll out our biggest DevZone for the biggest Dreamforce ever. Stay tuned to this space for more highlighted sessions, tips and tricks for Dreamforce and other huge announcements. What sessions are you excited about this year? Let us know in those boxes below, or give us a shout out on twitter.