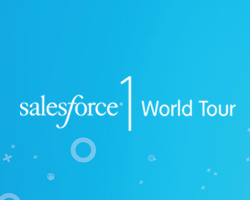 NYC or Bust! Join us Wednesday, January 8th in New York City and a be part of the Developer Zone at our Salesforce1 World Tour. The Salesforce1 Platform is changing the way we think about building apps for the enterprise. Developers and administrators from all skill levels are encouraged to come out to this free event and get hands-on with the Salesforce1 Platform.
Here are some Developer Zone highlights you won't want to miss:
Learn to build a mobile enterprise app in 10 minutes with our Salesforce1 Platform Quick Start. We'll give you a free t-shirt once you finish!
Get an exclusive tour during the Developer Session to find out what the Salesforce1 Platform means for Developers and Administrators. (Trianon Ballroom | 4:00 – 4:45 PM)
FREE Books! Discover the Developer Library where you can grab your choice of free technical resources, including our new Salesforce1 Platform Developer Guide.
Have a burning question or just need a little platform insight? Meet our experts and get your questions answered.
Salesforce1 World Tour Developer Zone
Wednesday, January 8
Registration opens at 8 AM (See full agenda)
New York Hilton Midtown | New York City, NY, USA
Hope to see you there!
Jessica Langston
@langstonjessica