It's a wrap LA!
Today Summer of Hacks wrapped up production at The Hub LA. We started off with 29 app ideas and over 90 participants. After 3 days of good food, great people, and awesome development 12 teams and 12 apps remained. Once the final Git Commit was completed attendees had a chance to de-compress over fresh crepes and some fun and games.
We gave each group 3 mins to demo their apps in-front of their fellow developer and our special guest judges: Jeff Scott, Ryan Huff, Mike Sommers. After the dust settled the winners were announced
Judges: Mike Sommers, Ryan Huff, Jeff Scott
On behalf of the Salesforce team, we would like to congratulate our first place winners inHouse for their mobile app that excites development of new, collaborative ideas in companies from the inside out.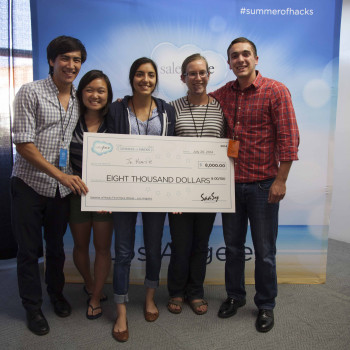 Second place goes to Motorcy.co for their mobile app that contextualizes navigation for motorcycle riders in urban environments. Third place goes to InstantReport for their mobile app that allows for an easy to way to report and track accidents and machine issues.
What's next? The final Salesforce Summer of Hacks takes place in London, England on July 25 – 27. Want to be there? Want to share with the world your app ideas? Register here and meet us in London.