We are only 19 days away from Dreamforce and I cannot be any more excited for this year's event! We are showcasing the important role our partners play by connecting you to just about every experience on campus, from zones to summits to sessions.
We are working hard to bring you the best, most exciting event of the year and I am thrilled to share eight reasons why you should be as excited as I am:
1. We are one family.
Over the past year, we have been bringing all partners together through collaboration, events, webinars, and resources. We have received very positive feedback and you will see even more synergy at Dreamforce. From combined sessions to one Partner Zone, the partner home base will be the Partner Zone at the Westin Market Street Hotel. See #3 for a deep dive on our Zone.
2. Partners are an integral part of Dreamforce.
We have over 350 sponsors and will have over 8,000 partners onsite. We want to thank our sponsors, in advance, and encourage those who want to still sponsor to check out the prospectus.
Partners have a huge presence on the Dreamforce Campus this year, including Industry Success Showcase, Expo Halls, Developer Zone, Hubs, sessions, AppBash and more! Partners, and their customers, are in over 50 sessions and over 10 Dreamforce campus locations.
3. We have our own dedicated partner space!
Our home base is the Westin Market Street Hotel, where every experience you have in the building is designed to help you innovate, connect and grow. This is also a huge opportunity for the partner ecosystem to showcase their expertise to the community and learn about the latest Platform technology. The 2nd floor houses the Partner Zone, prize pickup and daily lunch. The 3rd floor houses all partner sessions and meeting rooms. In the Partner Zone, our partner team experts will be available to answer questions and give you first-hand advice. There is also a Partner Community theater, two lounge areas, and a headshot Photo Booth so you can get a professional photo taken and upload it to complete your Partner Community profile. Our extended team of PDOs and sponsors (pictured below) will be present to advise you on ways to accelerate your business.

Activities you might ask? We have a lot planned! See #8 for a full list but here are three that you MUST attend:
ONE: Monday, October 13 – Salesforce Partner Keynote from 10am – 11:30am at Moscone West, 3rd floor
TWO: Monday, October 13 – Partner Welcome Reception (Beer from Lagunitas Brewing Company and cheese tasting!) from 4pm – 6pm in the Partner Zone
THREE: Wednesday, October 15 – Partner Appreciation Party from 7pm- 9pm at CityView, Metreon
4. Monday is dedicated to you.
There is no better way to kick off the best event of the year than with your family. Please register and plan to attend the Salesforce Partner Keynote from 10am – 11:30am on Monday, October 13. It will be in Moscone West, 3rd floor. This is new from last year so please make sure to note this year's new time and new location.
On Monday afternoon, we will have a beer and cheese tasting from 4pm to 6pm in the Partner Zone. We will be serving Lagunitas beer and perfectly paired cheeses. CodeScience and Lighter Capital are sponsoring this Partner Welcome Reception so be sure to thank them when you see them in-person!
5. You can win a curved TV!
Being in the tech world, we all want to have the latest gadgets and, lucky you, we are giving away some amazing prizes this year. You must attend the Partner Keynote on Monday morning at 10am in Moscone West, 3rd Floor, to find out the secret word and then you will head to the Partner Zone to see what you've won. The grand prize is a Samsung Curved LED TV and you can win other amazing prizes such as a MacBook Pro, Sonos, Jamboxes, iPads and more. You can get ready to win right now by texting DF14 to 40691. You will also have the opportunity to win a really cozy and awesome hoodie – I am wearing it below! To win the hoodie, go to the Partner Zone, head to the "inner hex" (inside the 'Grow' area), complete the survey, play MatchApps and then head over to the Prize Pickup area to pick up your hoodie.


6. Lots of content designed just for you.
We have over 100 sessions for Entrepreneurs, ISVs, Consulting partners, and those looking to learn more about what it means to be a Salesforce Partner.
In the Partner Community Theater in the Partner Zone, we will have best practice sessions that were developed BY partners, FOR partners. This will include ISV Tech Talks & Partner User Groups sessions.
You might have heard about our free online training, APP Academy and Cloud Academy, which help onboard new partners to the program. We will be bringing this training to Dreamforce so if you are new to the program or want to learn about ALL that our program has to offer, check these sessions out.
We also have a great session lineup for entrepreneurs and startups. Numerous rock star entrepreneurs will share their experiences and provide tips and tricks to help you create a successful enterprise cloud computing business. One that caught my eye was "From Idea to IPO 2014: Funding and Accelerating Your Startup" which will cover successes and lessons learned from entrepreneurs who have been 'on the ground.'
If you are an existing partner, make sure to check out the Deep Dives for ISV and Consulting Partners, which will cover best practices, success strategies, and new program changes.
Dreamforce is packed with amazing sessions. Review the DF14 Partner Session Guide so you can plan ahead, create your custom agenda, and make the most of the week.
7. Engagement is at an all time high.
Considering there will be over 120,000 people at Dreamforce, there is a ton of buzz. It is a great time to pitch your product, meet new people, learn, and so much more. To make sense of the conversations, we have enlisted Chatter to help frame the conversation pre, during and post conference. Log in to Dreamforce and check out the following groups:
Promo Central: promote sessions, apps, parties, etc.
Partners at Dreamforce: learn everything about the partner presence at Dreamforce. I encourage you all to post here if you have any partner-facing questions.
If you are hosting a session or have a big presence, I urge you to host your own Chatter group and do demand-gen campaigns to get customers and prospects to that group so you can have an active audience onsite at Dreamforce.
8. We know how to party.
What can be better than partying with this year's Super Bowl performer? Nothing! Bruno Mars AND Cake will be rocking out simultaneously, at Civic Center and Bill Graham Auditorium, respectively. This will take place on Tuesday evening, starting at 6:30pm. There will transportation from Moscone and neighboring hotels.
We know how hard you work and we want to celebrate our ecosystem's success on Wednesday evening at CityView, Metreon. This Partner Appreciation Party is open from 7pm – 9pm and is only open to those with a partner badge. Then, we will open up the celebration to customers at 9pm. The infamous AppBash will last from 9pm to 1am.
And don't forget to join us for the Partner Welcome Reception on Monday afternoon for beer and cheese in the Partner Zone from 4pm to 6pm.
To keep up-to-date on the latest parties, check out the Partyforce app.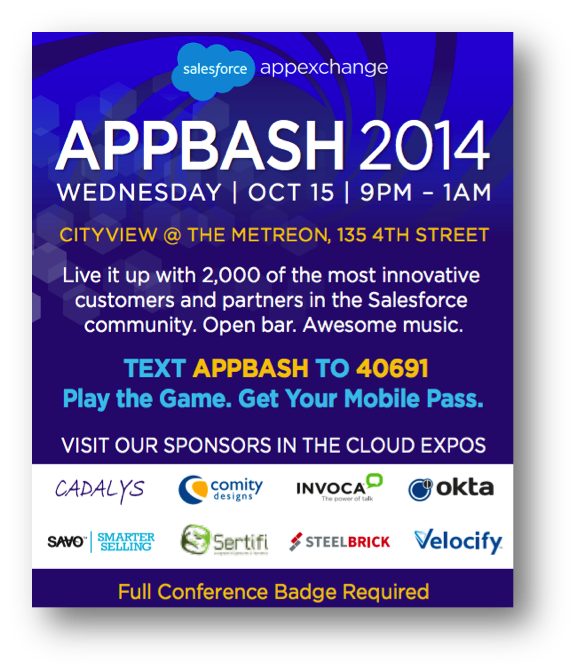 Excited yet? You should be! To stay up-to-date on all of the latest, bookmark the Dreamforce page on the Partner Community site – p.force.com/dreamforce.
Want a cheat sheet? Review the Dreamforce Partner Guide to learn everything that is happening at Dreamforce.
And join us on October 2 for the Roadmap Webinar: Dreamforce Preview. Register now!