You built an awesome app, passed security review, pushed "publish my listing." Time to pop a bottle of champagne, sit back, relax, and let the revenue flow, right? Wrong!
You need to invest in success to stand out among nearly 2,600 apps built for Salesforce. Our best advice is to constantly monitor your metrics and optimize your listing.
You should also consider marketing your app through the AppExchange Marketing Program (AMP). AMP is a co-marketing engine for revenue sharing ISV/OEM partners. More than 50 partners have participated in AMP to increase awareness and traffic, create awesome social content, connect with influencers, and drive demand.
You can still get in on our Winter '14 opportunities for an awesome year-end and fresh start to 2015!
1. Customer Heroes Campaign
Think you have a category-leading customer success story? Raise your hand to join the AppExchange Customer Heroes campaign! We'll highlight your customer success story via a Salesforce blog post and e-book. Your app will be featured at the top of your category, and in a second blog post about leading category apps. We will also drive traffic directly to your listing via ads re-targeted to salesforce.com and appexchange.com visitors.
Featured categories for Winter '14: Sales, Service, Finance, and IT & Admin
2. App Talks Customer Video
App Talks is a terrific opportunity to show your true value through the voice of your customer. Your customer will join us for a live in-studio interview to share how your app has transformed his or her company. The end product is a professional 10- to 15-minute video, edited into three short vignettes to promote via a blog post and paid social media promotion (you get all the footage, too).
Check out a few great App Talks here.
3. App Mavericks Web Chat
Need to get the word out about your unique app story? Then an App Mavericks web chat video is perfect for you! We'll pair you up with a Salesforce MVP or AppExchange All-Star to share your story via a professionally produced web chat. We'll promote all videos with a blog post and YouTube retargeting. Plus, you'll get the finished video to share with your team, customers and prospects!
4. Influencer Engagement: Happy New Year Mailer
Help the best Salesforce and AppExchange influencers get a fantastic start to 2015! We're mailing 500 MVPs, UGLs, and top app customers a Happy New Year package with cool gadgets, printed collateral about your app, and a strong encouragement to spread the word online. Only 12 partners will be part of this special delivery, so reserve your spot now!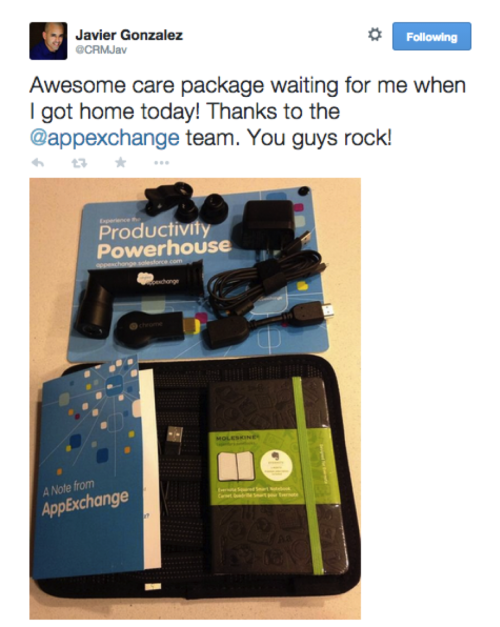 5. Salesforce #APPIQ Campaign
Want to be one of 6 apps in the spotlight for Salesforce AEs in Q4? Every quarter, we engage 100s of new AEs at their 1-week boot camp and all AEs through a desk drop and Chatter campaign called #APPIQ. The campaign reinforces that adding apps to the mix creates customers for life and features 6 apps as awesome examples. We incentivize AEs to spread the word and join our partners' Chatter groups to keep the conversation going. If you want to be top of mind with the people on the front lines, act fast because the remaining spots are limited.
Next year will be here in the blink of an eye, with a fresh set of opportunities! Please complete the AMP Interest Form so we can keep you posted and ask your input on new ideas! Please share your thoughts/questions/comments here or email the team at ampteam@salesforce.com.