On the weekend of July 11th and 12th, Girl Develop It (GDI) delivered the first Salesforce workshop, Intro to Mobile App Building, in Philadelphia, PA. I taught the workshop, and was supported by our amazing Salesforce community in the Philadelphia area.
I'm thankful to Corinne Warnshuis, GDI Executive Director, for the opportunity to pilot this type of learning, and look forward to teaching this workshop in many other cities. I'm also looking forward to Corinne speaking at Dreamforce 2015, sharing her journey from student to leader, and stories of how women of diverse backgrounds have achieved their technology goals and built confidence in their careers and their every day lives. Don't miss her DevZone session: Girl Develop It: Unlocking Tech Potential in Women.
Six awesome volunteers spent a sunny summer weekend with me for this workshop. This guest post is from one of those volunteers, Jayvin Arora, Technical Lead at Soliant Consulting. He is passionate about diversity in tech, and also spent his weekend volunteering with me at the MBKHack in Philadelphia. You can also catch him presenting at a few (7?!?) Dreamforce sessions.
Guest Post by Jayvin Arora
This summer, I stepped outside my role as a Technical Lead for Soliant Consulting to volunteer at a Girl Develop It (GDI) workshop as a teaching assistant. The workshop was geared towards women interested in learning how to build mobile apps on the Salesforce platform. It was organized by Girl Develop It and Salesforce in downtown Philadelphia and was the first collaboration between the two organizations. The workshop was supported by volunteer teaching assistants from the many Philadelphia Salesforce groups, including the Philadelphia User Group, PhillyForce Developer Group, and Philadelphia Girly Geeks: myself, Christian Belko, Celia Astheimer, Liz Gibbons, Kathy Chilcote, and Libby Brouwer.

End of the day Sunday (from L to R, clockwise): Kathy, Christian, Jayvin, Liz, Mary, and Libby
Teaching someone to create an app in such a small amount of time, knowing it can help make a difference to their career or business, is very inspiring. I found it really easy to be a teaching assistant in this class, which was led by Mary Scotton, who I met while leading the Philadelphia Salesforce User Group. During the class, Mary would teach a section and then assign a step in the Build a Suggestion Box App Trailhead project. The volunteers would then float around answering student's questions.
Reggie Jones, a social worker and new developer, said, "I was initially nervous and worried I'd be the only one there who had had no prior experience with mobile app development. However, this was not the case and Mary did an excellent job setting up a comfortable learning environment and group norms at the onset. I was able to learn from other students in the workshop as well help others when they had difficulties. Additionally, having Jayvin, Libby, Christian, Kathy, and Celia as teaching assistants was especially helpful, as students were able to ask more questions and get one-on-one and small group support as needed, as well as helpful tips for using the Salesforce platform and Trailhead modules."

Jayvin and Reggie, building a Suggestion Box app
I've volunteered at other diversity and inclusion events in IT, but never one like this where the students specifically wanted to learn Salesforce and develop apps on the platform. The attendees were a group of determined and passionate students who came from different backgrounds and had a wide range of motivations to learn the platform. Some were looking for their first or second careers, others were entrepreneurs looking to create a business, or enhance their start-up companies by incorporating Salesforce. Regardless of their goals, the students walked away with a thorough understanding of how to build Salesforce1 mobile apps with point & click tools.
Over the duration of the course, students worked through the Trailhead project and learned the basics of the platform including the data model, how to modify the user experience, working with business logic, and reporting functionality. After the course, students continued that learning. One student said, "I got a lot of knowledge and confidence out of the event. Since the (GDI) Intro to Mobile App Building, I've been working through modules on Trailhead and plan to attend upcoming workshops and meetups to learn more about networking and developers. I'm excited about the possibilities of how I might use what I'm learning in the future!"
Whenever I volunteer, I am blown away by the response in the students and how much I gain myself from the experience. The confluence of participants creates a wonderful opportunity for students to network in the local community, build relationships, and continue learning after the class is over. After the Girl Develop It workshop, a number of students reached out to us for ways they could continue learning and get involved. "With this class, I think I now know how to create a co-worker submission mobile app. I have a badge to prove it. 🙂 ," said Katy Lee, a participant and Senior Digital Marketing Specialist.
Opportunities to Get Involved
If you're interested in volunteering, Girl Develop It provides a wide variety of levels to get involved. You can teach courses of different technologies, or mentor developers on the rise. Alternatively, you can donate your office space for one of their events should you have some available. Plus, there is always a need for funding. To learn more about Girl Develop It or to get involved in your city, click here.
To learn more about how volunteering in tech can impact and shape your communities, check out
this special on MSNBC
on
September 10th
at 2EST.
About Jayvin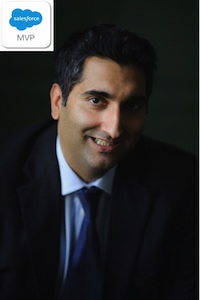 I'm a Technical Lead at Soliant Consulting in Philadelphia, Leader of the Philadelphia Salesforce User Group and a Salesforce MVP. When I'm not working with technology, you'll find me snorkeling or at a concert.
You can follow Jayvin in Twitter @JayvinArora, or contact him on LinkedIn.