steve_andersen
Can't access sandbox from Eclipse - Problem with new security regime???
I was working in Eclipse this AM and did a successful deployment from sandbox to production. Then, when I tried again to save an edited class, I got an error saying that I couldn't log in. When I tried to refresh from the server I got this: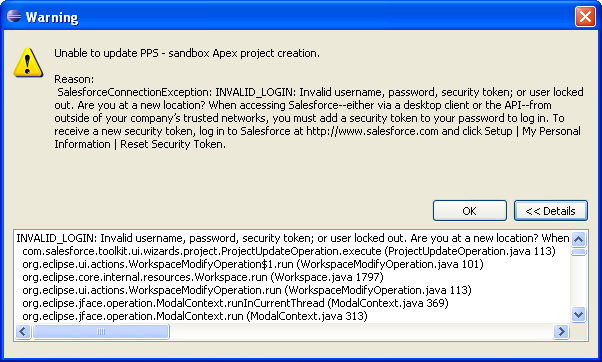 Here's what I don't understand:
I can log in to my sandbox via the web UI but not from Eclipse. If I'm doing this all from the same machine then my IP should be on the whitelist. Why does Eclipse fail?
This notice is telling me to reset my security token and use it in my login. Sandbox user accounts are set up automatically for you when you create your Sandbox. The user accounts are autogenerated with an email address of steve@onenw.org.nameofsandbox. That's a clearly invalid email address. The only way I know to find out my security token is to reset it, which tries to send it to my email, which never comes to me because the email is invalid.
I can't change my email address on my sandbox account, becuase the only mechanism for that is to go through the email loop, which doesn't work
If I set up a new sandbox account with a valid email, I can log into the sandbox from the UI, but not from eclipse
If I regenerate my security token I still can't login from eclipse

I'm trying to fix some bugs in the sandbox apex and deploy to production but this is holding me up. I know the Eclipse toolkit is "not supported" but it appears to be broken in regard to sandbox use.
Steve