SFmaverick
Advice for Schedule Project
Background - I have an Object in Salesforce called Shifts, where the user will enter a shift, they are required to enter:

Date
Start Time
End Time
Department
The Employee isn't always entered yet, because somebody has to be assigned, but a lot of times it's there. The reports from Salesforce are limited in how you can display them, it's a lot harder to see where the open shifts are and when people are free if you view these shifts in a list view. Prior to Salesforce, we used Excel and we had something like this (this is just a snippet, It's MUCH larger with many more departments and employees)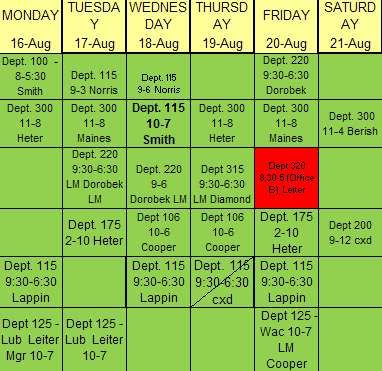 I have all the things you see in this view available in Salesforce. I have a formula field that generages everything in the little boxes. I need some advice / help on how I can write in visualforce, to put the Shift summary formula field under a column based on that shift's Date value. Basically, from left to right I'd like them organized by date, with one day per column. From top to bottom I'd like them organized alphabetically.
Any ideas / suggestions?
Thanks!