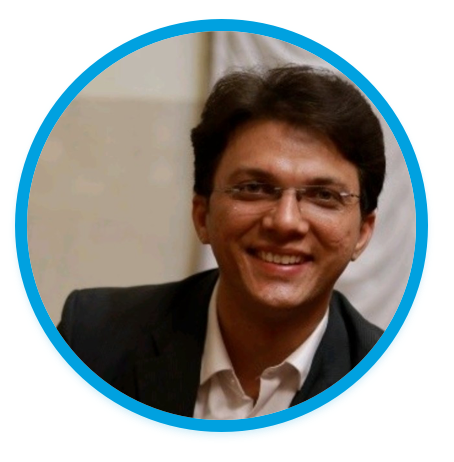 Parth Vasani is a Salesforce architect and consultant. He joined a Salesforce course in college and became hooked instantly. At the time, there were only three developer groups in India. Now, Parth is a long-time member of the user group community in that part of the world.
In this episode, Parth and I discuss his long history with Salesforce. He shares all of the ups and downs of learning the program and starting his career in this field. We also discuss more about the work he does with Salesforce and how he ended up in his current role. Tune in to join our conversation.
Show Highlights:
What it was about Salesforce that got Parth fired up.

How he'd describe his current role in the Salesforce ecosystem.

How much work it takes to keep developer groups running.

How Trailhead changed the Salesforce ecosystem.

How the pandemic impacted developer groups.

How many certifications Parth has.

Recommendations for studying for certifications.

How Parth got his first job in Salesforce.
Links:
Episode Transcript
Parth Vasani:
Definitely if you're asking me such questions, Trailhead is there, you go with Trailhead. But side by, I recommend you go for certification because certification will give you all around exposure.
Josh Birk:
That is Parth Vasani, a Salesforce architect and consultant of a long time member of the user group community over in India. My name's Josh Birk and your host for the Salesforce Developer Podcast. And here on the podcast, you'll hear stories and insights from developers for developers.
Josh Birk:
Today, we're going to sit down and talk with Parth about his long journey into Salesforce, his love for the platform and his work within the community, as well as how he got a job within the ecosystem. But we'll start as we frequently do with his early years getting in touch with Salesforce.
Parth Vasani:
Okay. So I have done my masters in computer applications. And this was way back in 2010. In my college, where I was in my master's second year, it's a three year course. And second year I met … We have a university placement. So there was a HR meet. And in that HR meet the HRs of different companies, the founders of different companies were also available. And after the meeting I wanted talk to him. He gave me time and I said, "Sir, I want to progress my life. As of now, I know Java and C. That's what I know. And I have inclination towards Java. So what is that new thing that it's coming into the market?" He said, "Do you know cloud computing?" So I said, "Yes, we do have a course next year for cloud computing. And I'm wanting to op that." So he says, "Why not you go to www.salesforce.com." And I said, "So is that a cloud computing?" So he said, "Yeah, it's a cloud computing. You can go over there and you learn it."
Parth Vasani:
And then as a college going guy, definitely fascination happens where there are events. And in 2012, was around July and it was just that Salesforce website. It was just two hours, within two hours the entire slot got booked and I was one of them. We were me and one of the student from the other part of the India, we were the only student out of the four participants that were there.
Josh Birk:
Oh, wow.
Parth Vasani:
And definitely I met you and Kavindra for the first time. Still remember that recruiting app.
Josh Birk:
Oh, right. It was the recruiting app. Oh my gosh. That's right. We had changed up because we had this warehouse example that we'd used a lot and we were in the process of changing it up, when you signed that on that trip. Oh my God. I had totally forgotten that. I remember the night you're talking about, because it was late night here in Chicago and I was up playing video games and my phone started just going off the hook. It just started vibrating over and over and over again because Kavindra had added in an automatic tweet with my Twitter handle in the notification or something like that. And it was like, registration was just like, good, good, good. It's like every sec, I'm like, what is going on?
Josh Birk:
And the next morning Kavindra was like, "We sold out in 15 minutes." I'm like, what the… I'm like, "What? What do you mean? We sold out in 15 minutes? We never sell out in 15 minutes." We had 150 seats. He's like, "Yeah, they're all booked." So that is awesome. That Indian trip is still one my favorite memories and in my career. And so if that was early enough and then, so were you part of Kavindra recruiting drive to get more developer groups up and running in India?
Parth Vasani:
Yes. So during that day, while you had walked us through the warehouse app, then there was a live mobile demo that you did, it was on Salesforce one, not a Salesforce app. And after that, there were only three developer groups out there in India. And there was no student group. We went to Kavindra and we informed him that we want to lead a student group. And that's where the journey started. So he gave three things for us. One is the recruiting app book, the warehouse workbook and three cheat seats. I still have that. And one cap where, and very curious after receiving that book, I was so curious about learning it.
Josh Birk:
What was it? Okay, so you came from a Java background, you have a C background, what was it about… Well, first of all, let me stop you. So I always love to get this into the show. This sounds like you were amongst the elite of people who probably had no idea what CRM was before you started working with Salesforce, right?
Parth Vasani:
That's correct. No idea what CRM, no idea about Salesforce. It was just mobile computing and cloud computing.
Josh Birk:
I know. I know it's been on the show before, but I still remember Ree Karlberg asking me in an interview. He's like, "So what's your experience with CRM?" And I'm like, "Backup buddy. I don't have a clue as to where to even begin with that acronym." My wife reviewed Salesforce for her company and she actually came to me later that afternoon. And she's like, "I only have one question, what's CRM?" I'm like, "It happens. It just happens." Anyway, so what was it about Salesforce and cloud computing that really got you that fired up to want to go to that workshop and start doing the student group and all of that stuff?
Parth Vasani:
So one thing is, so while you did ask me about, when was the first time that you started having a computer at your home, and you see that, let's say for example, to have Java, we have to install the JDK, to have your database, you have to install your Oracle or any other database that you need to install it. And then while I was about to register for [inaudible 00:06:49], fortunately before that, I had a very good navigation on Salesforce website where wanted to understand what exactly Salesforce is all about. And during that time, one thing that fascinated me eventually, and still now I is, I don't need anything to be installed.
Josh Birk:
Right.
Parth Vasani:
I can work anywhere. And the second thing which eventually inspired me from your talk and Kavindra's is Salesforce has this entire community to help eventually apart from your day to day work, Salesforce has this community. Now it's name is Trailblazer community. And Hey, we have a community in place. That's what Kavindra explained us. I still remember we were having a lunch and then he took mine and Saga's interview during that time. And during the time he informed us that, why not you have it? So we asked him, how does this go and all? We need your help and support. So that was it. And eventually that community world where it saw that helping each other. And that's where I said, this is also really exciting apart from whatever I will learn with Salesforce, that excited me and had a kick.
Josh Birk:
Nice. See that. I think that's fascinating because one of the things about that trip, I don't think I've really talked about all that much publicly is at the end of… So we did three cities and at the end of every workshop, every day, the questions always came up. So what do we do now? What do we do next? Right? And it was like in the world that was then like 2012, 2013, it was like certification. You're supposed to go get your certification. And like, I remember all these crestfallen faces because it's like, certifications are expensive. And it's not always traditional for companies to pay for them kind of thing.
Josh Birk:
So it's just like it wasn't a great answer, right? And I didn't feel like I had a great answer and I haven't talked about a lot, but that's one of the reasons we ended up getting Trailhead, right? Which I thought about that. What would be a better answer? But you're providing a better answer too, because if we had already built out that community network, that could have been my response, right? What's your next step? Well, go see if you've got a local developer group, go see if you've got a local student group, get involved with the community and the community is going to help you learn. So, good job.
Parth Vasani:
And then I live in Pune and Pune is known to be an Oxford of the India eventually. And saw this great potential to go to colleges, we formed a group, the group that we were having is one person having to make sure that he goes into one university and teach Salesforce. And then it got so much credit that eventually we became one of the leading student groups in India and which was around almost around 1800, 2000 student members. So thoroughly, it was good learning and getting problem solved on top of it. It is more of you yourself learning when the questions come from students, that was a big point.
Josh Birk:
That is awesome. And I just always love to hear the numbers around India. You all do everything big, get out. People don't understand, no, they don't have small developer groups over there. It just doesn't work. It doesn't happen. What's your current role within the community ecosystem? How would you describe that?
Parth Vasani:
Currently, I lead the Pune developer group now. We do have monthly meetings and we keep on innovating in terms of learning. So divide our learning according to quarters. So let's say this quarter, we decided to have an admin track. Next quarter, we'll have an architect track. Third quarter, we'll have a developer track and et cetera. And then one quarter will be more of the product segment of sales cloud, service cloud, CPQ, et cetera. And that's how we keep on innovating. And I see that in last five years, there has been a drastic change in people wanting to look towards learning Salesforce. And we then try to have one special session where we have our series.
Parth Vasani:
For example, we did lightning web component series, where we went on teaching web components from the beginner level, till the advanced level, including learning about JavaScripts. And then we get sponsors where partners themselves are interested. We go to partners and there's a big collaboration where the community leaders and the partners and are definitely the community members. We all collaborate and definitely have fun over there, learning, having nice food, swags.
Josh Birk:
Nice.
Parth Vasani:
And there's a change now. You get certification voucher there.
Josh Birk:
Nice. There we go, finally. Where were those few years ago? That's awesome. Describe like, there was a lot of moving parts that you just described. And I think that people who maybe have a casual relationship with developer groups, I think the people who really get involved with them, even if they're not doing it from a leadership point of view have this appreciation for it. But how much work goes into all of that planning and coordination and working with the other leaders? How many hours out of your week is required to keep that moving?
Parth Vasani:
So that's a very good question eventually because the expectation revolves around having a good content. While we do in-person and virtual also, we have. The important thing is content. And apart from content, it has to be very sure that there is some interest in terms of community members. So we do take a poll out saying that these are the list of topics, what all topics do we want to learn? And then we decide this is highest number of vote that we have got, hey, let's go for it. And then-
Josh Birk:
Got it.
Parth Vasani:
… The location preferences, booking those halls, having the right content, speakers. And then on the day of any event, we normally have two, two and a half hours of our event where two tracks are eventually or two sessions we have in a day. And we also try to have the hands-on sessions.
Josh Birk:
Got you.
Parth Vasani:
That's what our main intention is that it should be eventually hands-on. So, if we are doing a monthly meeting one Saturday, we normally keep it on weekends on Saturday. It definitely goes around four, five hours on planning out everything.
Josh Birk:
Got you.
Parth Vasani:
For one meeting. For one event.
Josh Birk:
Nice. I keep looking for a word that will describe the amount of time required to produce in another amount of time, right? So like a 30 minute podcast episode takes about five hours to get done. What's that gap required that's, just to get that stuff moved? How has Trailhead impacted developer groups in India and being able to have people get educated on the platform?
Parth Vasani:
So huge impact. And let me tell you, so earlier it used to be, I think Trailhead was starting 2015, if I'm not wrong, 2014, '15.
Josh Birk:
Yeah. That sounds about right. I think it was 2015, but I have pandemic brain. So we'll go with that.
Parth Vasani:
So before Trailhead, it was to be like, either you go to community and wait for the event to happen or go to developer forums and ask your questions there. Or maybe because Salesforce resources were very less during that time. Even if you have a friend whom you want to call, call him and ask him. It was very difficult. And then on the other side, two more challenges that starting from students till developers used to have that, my company is not sponsoring me certification voucher.
Josh Birk:
Okay.
Parth Vasani:
And the next thing is, Hey, I want to learn, but I don't have specific thing or guidance or maybe a right budget for me to learn even the private classes which happen. And there are definitely good private classes out there. Including Salesforce classes, the Salesforce sessions that you used to have. And then while talking about resources, it was very less. So now with coming of Trailhead, it's like, I just have to go and make sure that I know I have to start it from an admin as an example.
Parth Vasani:
So I have set modules, badges, projects. So Trailhead started eventually with models. Then it came with the badges and then super badges and then the projects eventually. And then trail mixes now.
Parth Vasani:
The difference that it has created is, and there is always one line now answer, which now goes on and there is a huge impact. So whenever somebody ask, Hey, I want to learn Salesforce, the answer is, why don't you go to Trailhead? That's what the answer is.
Josh Birk:
I know. I was at a third party conference and somebody came up to me and they're like, "Hey, my team of three or four people, we just got tasked to add Salesforce to our project. We're all developers, but we have no experience with Salesforce. How can we learn?" And I was like, "Trailhead.com." And he looked at me like I was a simpleton, right? Like I'm clearly, slightly insane. He's like, "Well, what's that?" I'm like, "It's [inaudible 00:18:07], just go to trailhead.com, click on the developer path and you should be good to go." And he's like, and he just paused, surely there must be another thing that I was going [inaudible 00:18:17].
Parth Vasani:
And then the good thing then eventually Salesforce, the Trailhead started with the basics. Then it went ahead with the intermediate, for the people having intermediate experience. And now it goes for the entire thing, developer, admin, business analyst, architect, you have everything for you.
Josh Birk:
And I remember early in promoting it that it was like, we know that a lot of the material we have is one on one basic on ramping stuff. But the goal was always to get to that intermediate, advanced and things like that. Super badges was actually something, I think Peter Chitham actually started kicking around that idea really early in the process. But it's just one of those, until you build your department that can churn out those content, you got to pick your battles. So, I know the pandemic hit India really hard. How did that impact the community and being able to organize developer events?
Parth Vasani:
So it's a very great question. Cool question eventually. So we were having monthly offsite meeting and all things were running according to our plan. So we planned events three months before, so let's say if we want to do event in July, we start planning from April right now. So everything was fine. And then pandemic came in and the whole world is around at the same point. It's all gone now. So will I still be able to participate and then virtual things, zoom calls teams started coming in. Thanks to trade visa community that they really helped us for every nitty gritties that we required. And initially, it was people having a lot of excitements to have the virtual sessions. So let's say we are having a track on an admin over here. The same track might be having another part of the world. So people used to get divided over there. If I am getting a same learning, then I can go over there and earn myself as well. So that got changed. So we had to change our thinking as well that…
Parth Vasani:
I think we should have an experienced, more experienced speaker who has a very well known industry hands on and who has a better track of himself and is very well aware of the Salesforce ecosystem. So we started doing that and that got again, the mind of the community members and then this got started eventually during month and month. But one time pandemic started in March, 2019, or 2020 sorry, 2020. And we were all fine.
Josh Birk:
Pandemic period, yep.
Parth Vasani:
We were all fine for six months and then started things where the same content was and same recipes were there entirely around the world. So that got a kick. And we said, why not hold it for a few months? And let's decide on the next step where, what if we go with a conference event, a mini conference instead of having monthly events, a mini conference. But we took a poll and eventually people in the rest part of the world like US, they got started with the conference event in 2021, but we said, this content is very specifically for people, for the community members. So if community members don't turn up, then it's their decision is that some are, it's like 50/50 poll, then I think we should skip it. So now after one year we are having an event in May for Trailhead DX. We are starting our event now. So it's for the big kick for while we were there in pandemic.
Josh Birk:
Got you. That's awesome. Nice. And I'm going to be getting on a plane and going to San Francisco towards the end of the month and it's surreal.
Parth Vasani:
So fascinating after a long time.
Josh Birk:
I know. I got to get my sea legs back so to speak. Now, talking a little bit more about education, how many different certifications do you have?
Parth Vasani:
So I initially, started with the platform dev-1. So always wanted the day where you taught us about the warehouse and that's where it got an inclination. And that's where, I said, I will start with the developer.
Josh Birk:
Got you.
Parth Vasani:
I started with the developer certification then moved on. So dev-401 platform dev-1. And then I said, I need more knowledge while I was hands-on. I need more knowledge on the admin side. So complete my admin sales cloud. And because that was a day to day job, sales cloud. So wanted to make sure that I have a very good grip of that.
Josh Birk:
Got you.
Parth Vasani:
And then I stopped for a while for two years eventually. And I met one of my friend who inspired me and is now working with Salesforce, India. And he inspired me to go for architect certification because that will have a different mindset. Architect is all about mindset.
Josh Birk:
Nice.
Parth Vasani:
So I was asking a lot of questions to him. So he said, definitely if you're asking me such questions, Trailhead is there, you go with Trailhead, but side by, I recommend you go for certification because certification will give you all round exposure. Let's say for example, integration patterns, right? So we have certification around integration architecture, right? So I said, fine. So I started with the application architect track. I completed the entire track. Now, I am a certified application architect. The next goal is to go for system architect with the experience. So I passed the development life cycle and deployment architect last week.
Josh Birk:
Nice. Congrats.
Parth Vasani:
Thank you. And then yes, while I have hands-on and I started working as an architect and that's why I felt that I also have to gain knowledge, not just for one thing, but for the entire thing. So, that is getting me run down every moment.
Josh Birk:
Got you. Do you have any tips or tricks or tools you would recommend for people trying to study after the certs?
Parth Vasani:
So eventually when I used to go to my friends to ask, they used to tell me, why don't you go for Trailhead? So I also knew it was Trailhead, but that kick of having daily spending some hours to learn. It should be daily, some hours, half an hour, 45 minutes daily. So the thing that got me running was, Trailhead will help me run by my own way. And so I think Trailhead is the first thing because the content is really, really good, really, really good. That is one thing. And I'll tell you one thing. So how we have… I can go back into, how we had recruiting app as one of the Bible that time. And then sales was brought in apex PDF and visual for PDF. Now, it has gone to different text tracks. We have lightning of PDF where a whole bunch of PDF [inaudible 00:26:29], and then you have all different PDFs for architect as well. Let's say, for example, integration patents.
Josh Birk:
Got you.
Parth Vasani:
You have PDF, you have good blogs where Salesforce architect. Now, Salesforce has also gone ahead with architect communities. So there's a huge bunch of nice content over there and describes very clearly of how you should go about getting a good diagrammatic view. And then you have some examples to go about it. So I would recommend Trailhead and the official blog where Salesforce published can be a developer blog if you're going for developer certification, or if you're going for architect, there's a huge amount of bunch written by Salesforce architects. And there are other good architects around the world who are certified technical architects who have written their blogs on medium. Some of them also, I will recommend.
Josh Birk:
Nice. Now, if I did a little bit of reading correctly, it took you a while to get your first job in the Salesforce ecosystem. Is that correct?
Parth Vasani:
That's very much correct. 11 months after I passed out.
Josh Birk:
Nice. Any learnings from there? Anything, if somebody else is listening to this and they're like, I know I can learn this stuff. I have background pars. I can do this stuff. Any words of wisdom for people who are trying to get into an actual career?
Parth Vasani:
Oh my God, you have made me remember those days now. So I'll go ahead. It is so important. And while I passed out, as I said, I was already leading a student group, but due to my introvert nature, I was hesitant to tell people out or the interviews that I am a Salesforce leader and I felt that knowledge should be first. So I should tell them instead that I know Salesforce and I worked for this programs eventually.
Parth Vasani:
So I used to do that, but I got stuck where I was not getting calls from a single company. So my mind was first that, so I'll tell you in India, you have to have your percentages. So we don't have grades, we have percentages. So big size, like Accenture, Cognizants, they have a set criteria wherein you have your 60% throughout your career in 10th throughout and engineering, or maybe I've done bachelors in masters. It should be throughout 60%. And I was known in that category. That was one setback. So nobody was checking me out. Second thing was, so this happened for one and a half month. And I said, I'm not getting Salesforce jobs now, what should I do? Somebody did not know. Some companies did not know what Salesforce was all about. So I had to tell them that this is what Salesforce is all about.
Parth Vasani:
And literally I had to give my resumes to the guard sitting outside the company to inform him that if your company starts Salesforce practice, please do not hesitate to call me and inform your HR that Parth is there, who can work, at least start working off for one of your assignments.
Josh Birk:
Nice.
Parth Vasani:
And then I started saying that after four months, that whatever I get in, I will get into, it's not that I will want to get into Salesforce. So I said, whatever technology I get, I will go into and then maybe I can move on. That's not an issue. So I got one job where I got to work on a PHP and I still remember, it's just one 12 by 10 square foot of a room, only one room where a company owner and three employees were there. And I was the fourth one who joined PHP.
Parth Vasani:
And then after three days, I got a feeling that I told him that very frankly, that to the owner of the company that I think I'm not enjoying, I want to learn… I want to head it to Salesforce only. And he was already working on some local based CRM. So he said, "If you want to learn, then I have something very similar to it. I can keep you on." But I said, "No, I'm not enjoying, I will go to Salesforce." And then this continued again. So six months passed by now. And then I got stuck at one point and really demotivated. So then my brother, I have an elder brother. He had a very good network with people who are working at leading positions in the company like VPs and all. So I met one guy who got his job in 1994 after 14 months. And then he was working with one of the leading, I think banking and insurance company, that company headquartered in Germany, but he was working in Pune and I got to see him. And he said, "Make these improvements in your resume because you know it." So I made it and he said that, "You continue doing that."
Josh Birk:
Nice.
Parth Vasani:
But that was like, okay, motivation. And he said, "Why don't you go for dev-401?" So I said, "It's still the same thing with me. I don't have a budget." So he said, "I will sponsor you. Go ahead."
Josh Birk:
Nice.
Parth Vasani:
So I started preparing, I got again, back on my ground of confidence. And now this is very interesting. So in India we have newspapers. So the newspaper guy comes and he gives us [inaudible 00:32:35]. So you get your newspapers out over there. And his job is basically to give newspapers to each flat in apartment. So I was having my tea and I saw him and I said, I want to do something like this now. So I took almost around 22 printouts of my resume. And I started doing my own strategies where… So Pune eventually is a big IT hub. I said, at one area I will pick. And I will give all companies my resume saying that I am only interested in Salesforce, whether you have a Salesforce practice or not.
Josh Birk:
Nice.
Parth Vasani:
So I started giving resumes and my strategy got successful. I started getting interview calls, was getting rejected lot of time.
Josh Birk:
Okay.
Parth Vasani:
So then when after 10th month nothing happened, I decided that… So I used to start morning 9:00 and used to come back by evening 8:00 PM because the HR department working hours until 6:00 PM.
Josh Birk:
Got it.
Parth Vasani:
So I said, no use after 6:00 PM. So what I did was, I asked to go to some events, other events, I asked to understand what is happening. And I asked to make sure that I have my good network build. And just from that, I know this Salesforce, whatever I have learned, and one very good friend, he referred me to an MNC called Cybage software. It's based out in Pune CMMI level five company. And they interviewed me and I was through and after joining the company, again, all my colleagues had a Java training and I did not, I don't know why. So I told HR that, see, I am only interested in Salesforce. I know you have a practice. So I'm only interested in Salesforce. Then she said that fine. So you appear for an interview. If you clear interview, you'll be placed in Salesforce practice. If you don't clear, you'll be put on the Java practice. I said fine. So I cleared. So now this is almost 11 and a half months of a journey struggling to get one job.
Josh Birk:
Wow.
Parth Vasani:
But very much thankful to Salesforce, I can definitely say that if I would've been in other company, in other technology might be, I would've not been sitting here and having a podcast with you. Definitely not. So thankful to Salesforce.
Josh Birk:
And that's our show. Now, if you want to learn more about Parth, head on over to the show notes, catch the related links, where you can do things like follow him on social media. Now, I did ask after Parth's favor, non technical hobby, and well, it includes a sport I don't think I'll ever understand.
Parth Vasani:
I like playing cricket.
Josh Birk:
Nice.
Parth Vasani:
And I'm blessed with the baby boy. So eventually I'm more of a family guy.
Josh Birk:
Got you.
Parth Vasani:
Spend time with my family as much as we can. So we go on outings with the family on weekends.
Josh Birk:
I want to thank Parth for the great conversation information. And as always, I want to thank you for listening. Now, if you want to learn more about this show, head on over to developer.salesforce.com/podcast, where you can hear old episodes, read the show notes and have links to your favorite podcast service. Thanks again, everybody. And I'll talk to you next week.