The TrailheaDX Main Show originally aired on Thursday June 25, 2020 at 8:45 a.m. PT
Refer to this this handy Watch at Home Guide while watching the TrailheaDX '20 Main Show on demand.
Watch the keynote session hosted by Sarah Franklin, EVP and GM Platform, Trailhead, & AppExchange, and special guests for a look at how customers and Trailblazers are rapidly building solutions for their businesses in our new normal. It's more important than ever to be able to innovate fast, scale with confidence, and empower everyone to build on the platform.
---
We support our community
We stand with the Black community against racism, violence, and hate. Now more than ever we must support one another as allies and speak up for justice and equality.
Learn 8 ways you can support the black community here and how we are taking action for racial equality and justice on the Salesforce blog.
---
Find us on Twitter
Be sure to follow @Salesforce, @SalesforceDevs, @SalesforceAdmns, @SalesforceArchs, and @AppExchange, and join the conversation across social media with #TDX20.
---
Your opportunity to give back
Through the United Nations World Food Program, we are committed to helping the world's most vulnerable people have enough to eat during this critical time. Visit Salesforce.com/WFP or text WFPUSA to 243-725 to donate and help feed those in need. Through July 31, 2020, Salesforce will be matching donations up to a total of $150,000 USD.
---
Product announcements and demos
Explore new products and announcements.
Salesforce Anywhere
Working from anywhere is the new normal. By leveraging a combination of wellness and collaboration tools integrated with scalable IT tools, Salesforce Anywhere enables employees to be more effective in this all-digital, work-from-anywhere world. Read more on the press release.
Related sessions:
Innovate fast with Salesforce CMS, Communities, Einstein Bots, and Lightning Web Components
Like many others, Sun Basket has recently had to reinvent the way they run their business. Despite overwhelming demand for meal delivery services, Sun Basket was able to focus on their customers and quickly adapt to their new normal using the Customer 360 Platform. Learn more about the products that can help you reinvent your business fast below.
Salesforce CMS Basics
Expand your Reach with Communities
Einstein Bots Basics
Get started with Lightning Web Components
Related Sessions:
Scale with confidence leveraging DevOps Center and Data Privacy Manager
Scalability and security are so important when you're building world-class apps. Salesforce customer and AppExchange partner nCino built a bank operating system, which they were able to scale-up to process paycheck protection program loans for their customers at the onset of the COVID-19 pandemic. Learn more about the products that will help you scale quickly, confidently and securely.
Learn more about the DevOps Center
Related Sessions:
Empowering everyone through Trailhead
How do we empower everyone in this new-normal? Reskilling has never been more important. With demands on businesses shifting as they accelerate their digital transformation, employees and job seekers with digital skills are highly sought after. Trailhead, Salesforce's free online learning platform, enables anyone to skill up from anywhere. Today we're introducing new Trailhead content, product features and certifications, that empower everyone to learn new skills for the new normal.
Plus, learn more about pathways into professions within the AWS and Salesforce ecosystems on Trailhead. When you complete the new AWS Cloud Practitioners Quest, you're entered to win a free AWS Certification Practice Exam credit. Start your journey here.
Visit Trailhead.com to skill up for the future
Download Trailhead GO for iOS
Learn more about Einstein Recommendations for Trailhead
Learn more about the latest Trailhead product innovations
Skill up on the latest Trailhead learning content
Read about the new Javascript Developer 1 Certification
Related Sessions
Transform the consumer experience with Customer 360 Guides
We need to empower you to build connected customer experiences and make your Customer 360 a reality. So today, we are also announcing Customer 360 Guides.
Related Sessions:
Develop from anywhere with Code Builder
Code Builder is a new, web-based dev environment optimized for Salesforce and powered by Microsoft's Visual Studio Codespaces. Read more about Code Builder on the developer blog and learn about more new capabilities for developer productivity in our newsroom post.
Related Sessions:
Deliver connected apps fast with elastic scale using Salesforce Functions
As business demands grow, so does the need to build end-to-end experiences that can scale elastically. Salesforce Functions is a service that lets developers write code that can integrate with their data and events on the Salesforce Platform, and run it on-demand with elastic scale in a serverless environment. Users get the flexibility to innovate using languages such as Node.js, Java, and Apex, while taking full advantage of open source ecosystems. They can quickly build, test and debug Functions locally using the Salesforce Developer Experience (SFDX) tools.
Previously announced at Dreamforce '19, Evergreen Functions is now renamed Salesforce Functions, to make it easier for customers to understand our products and how they fit together. Evergreen as a brand name will be discontinued going forward, but will remain as the name for the underlying runtime.
Learn more about Developer Productivity in the Newsroom
Related Sessions:
We want your feedback! Take our short 60-second Salesforce Functions survey.
Learn more post-event
Get on our interest list to receive updates on Salesforce Functions, or contact your Account Executive for more information on participating in the Developer Preview.
For a complete list of new features and announcements see our Summer '20 Release Notes.
---
Continue learning with Trailhead Academy
Trailhead Virtual Bootcamp for Platform Developer I
Join our Salesforce experts on the path to becoming a Salesforce Platform Developer for $199 (regularly $900 USD) offer valid till July 31st. Register now
Certification Preparation for JavaScript Developer I
Are you ready to take the next step in your career by becoming a Salesforce Certified JavaScript Developer I? Join our Salesforce experts in this brand course that will help hone your problem-solving skills and reinforce your knowledge of key features and concepts of the JavaScript programming language. Register now
Trailhead Virtual Bootcamp for New Admins
Learn the skills to build a career as a Salesforce Administrator, join our experts on the path to mastering Salesforce for $199 (regularly $900 USD) offer valid till July 31. Register now
MOAR Trailhead Academy Classes
Three of our most popular and requested courses (ADX201E, ADX211E, DEX403E) are now available in a new flexible and virtual format. With four hours of virtual learning a day spread across a two-week period, learners get access to experts and the same engaging content included in traditional in-person courses.
BONUS! We're celebrating by offering a $200 USD certification voucher for individuals who register for and participate in a ADX201E, ADX211E or DEX403E course before July 31, 2020 at 11:59 PM (local time). Restrictions apply, see below for details.*
Administrative Essentials for New Admins in Lightning Experience – Extended (ADX201E) – Extensive and interactive, Administrative Essentials for New Admins in Lightning Experience is the core course that ensures your success with Salesforce Lightning. Learn more
Administration Essentials for Experienced Admins in Lightning Experience – Extended (ADX211E) – Comprehensive and hands-on, Administration Essentials for Experienced Admins in Lightning Experience is the perfect course for administrators who are ready to significantly ramp up their skills and knowledge about using Salesforce to solve their most pressing business needs. Learn more
Development for Platform App Builders in Lightning Experience – Extended (DEX403E) – This comprehensive hands-on course is a must for new application developers or developers who are new to Salesforce. Learn how to use the declarative "clicks not code" capabilities of the Lightning Platform to create custom applications and customize existing applications. Learn more
*Terms and Conditions
While supplies last. Participants will receive one (1) $200USD certification voucher after registering for and completing either the ADX201E, ADX211E or DEX403E course through Trailhead Academy before July 31, 2020 at 11:59 PM (local time). Limit one (1) voucher per person. Certification voucher will be valid for one-time use on any Salesforce exam with a value of $200USD or less. Participants must register and take their selected exam before December 31, 2020 at 11:59 PM (local time). Cannot be combined with other offers. No refunds will be provided for exam fees paid prior to effective date, on exam fees paid when there was a redeemable voucher, or for unused vouchers. Vouchers are non-transferable, not redeemable for cash, and eligible for use by recipient only. Voucher codes will be sent via email to the email address provided in the class registration order approximately two weeks after the course completion.
---
Meet the Trailblazers
Trailblazing Together
Our Trailblazing Together opening video features many amazing Trailblazers from around the world. Check out their Trailblazer profiles to connect with them! And learn about several organizations focused on making change in the Salesforce ecosystem.
Featuring Trailblazers Alvaro Mattos, Blanca Leon, Brian Owens, Charly Prinsloo, Christian Knapp, Frédérique Mounier, Heidi Prowse, Houssam Saoudy, Jenh Vo, Jesse Twum-Bfoao, Jonathan Fox, Kumiko Akimoto, Lauren Dunne Bolopue, Neetu Bansal, Neil Buen, Stephanie Rhodes
Berkeley innovates fast
The UC Berkeley Innovative Genomics Institute (IGI) innovated quickly to serve the local community at the onset of the COVID-19 pandemic. Learn how they did it in our Q&A with Nobel-prize winning Executive Director of the Innovative Genomics Institute and Professor of Molecular and Cell Biology and Chemistry at UC Berkeley, Dr. Jennifer Doudna. Click here to donate and support the IGI COVID-19 Testing Facility.
Sun Basket is doing well while doing good
Meet the Sun Basket developers Sam and Daniel who started as customer service agents and skilled up through Trailhead to become developer Trailblazers. Also check out our exclusive Q&A with Sun Basket's Vice President of Customer Service, Brett Frazer. Plus, do good and donate a meal at www.sunbasket.com/donate to #FeedItForward.
Trailblazers take many forms at nCino
You may have heard what VP of Engineering at nCino, Dory Weiss and team are doing to support the financial industry and the paycheck protection program. There's a diverse team of Trailblazers who contribute to the success of this program, and we interviewed four of them to understand how they leverage Trailhead in their various roles at nCino. Here's what they had to say:
Marcelle Novak, Quality Assurance Engineer at nCino
I'm a QA engineer and I have to test whatever our developers create and Trailhead is really helpful in building my understanding. I like the bite-sized format of Trailhead. You're not just reading an article, it's interactive and hands on. And there's so much you can do, you can really learn anything. Sometimes learning can feel overwhelming but Trailhead breaks it down and makes learning easy and really fun.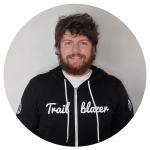 William Higgins, Senior Software Engineer at nCino
My favorite thing about Salesforce is not having to worry about a lot of the foundational levels in software development. A higher percentage of my work is focused on feature development which is really exciting. I use Trailhead when we're considering new Salesforce technologies to adopt or if I'm in crunch time and a customer is having an issue with a piece of the tech stack that I'm not yet familiar with.
Moriah Yancey, Technical Writer at nCino
As new technology comes my way, I just take a Trailhead module for it because the write-ups for it are so helpful. As someone who writes configuration, I really like reading and being a part of configuration that makes sense and is easy to follow. I thought it was really cool that Salesforce offers Trailhead as a free resource. I've never heard of a software company being so free with their technology.
Rich Estock, Senior Manager, Professional Services at nCino
Trailhead really helped bring together the technical and architectural aspects of Salesforce to the practical real world problems it can solve. That's unique, I don't think any other learning platform offers that. Take advantage of Trailhead to first and foremost understand the basics. Once you have a solid understanding, follow your passion. You can build your career on being very technical or you could also have an amazing career without getting into the technical weeds. The possibilities are endless.
Justin Smith delivers inspiration
Justin Smith used his Salesforce skills and Salesforce Care to help a group of local non-profits quickly build a scalable system for at-home volunteers to respond to community requests for help. Check out Justin's story in the video below.
---
Got Questions? Get Answers
Join the Ask the Experts session that's right for you and get your questions answered.
Ask the Experts: Developer Experience on the Customer 360 Platform
Ask the Experts: Admin Edition
Ask the Experts: Business Continuity
Ask the Experts: How to be Successful with AppExchange
And don't forget to join this year's virtual True to the Core session with Salesforce executives Bret Taylor, President and Chief Operating Officer, Parker Harris, Co-founder and CTO, and Sarah Franklin, EVP and GM Platform, Trailhead, and AppExchange, and Salesforce Product Managers. We will round out TrailheaDX with the opportunity to virtually engage with our execs and get your questions answered today from 2:00 p.m. — 2:30 p.m. PT.
---
Next stop, Global Gatherings!
The TrailheaDX '20 learning continues from July 13 — August 15! Your Community Group Leaders are excited to bring Trailblazers together to talk about highlights from TrailheaDX. Join your Trailblazer Community Group to connect, learn, have fun, and give back together. Find an upcoming gathering near you.
---
There's so much more to come… Enjoy your virtual TrailheaDX '20 experience on demand!
We hope you learned something new today. Check out all the available learning tracks, Q&A sessions and enjoy the rest of the all virtual TrailheaDX '20 show on demand!
View all TrailheaDX Channels and Sessions