In today's world, content is the conversation that companies are having with their customers. This makes content personalization, relevance, and accessibility paramount to building strong relationships with customers. Companies need to create, manage, and deliver the right content to the right customer at the right time across the entire customer journey, from marketing to purchase and beyond. This is where a content management system (CMS) plays a key role.
A CMS manages the creation and modification of digital content and experiences. However, traditional CMS lack flexibility, with many best suited to a single content team publishing content to a single channel, such as a website. Some CMS are also not easy to use and require long lead times to publish content across different channels. All this results in content silos and an inability to deliver relevant dynamic content that scales to meet customer demand.
Enter Salesforce CMS. Salesforce CMS is going GA (Generally Available) in Winter '20. Salesforce CMS enables companies to accelerate the pace of content publication across channels. Salesforce CMS is a simple, flexible, and customer-first CMS. Built on the Salesforce Platform, Salesforce CMS empowers every team to create, manage, and deliver relevant content to every touchpoint quickly.
See how Capricorn Coffee uses Salesforce CMS to create better digital experiences
In this blog series, we follow the journey of a fictional company called Capricorn Coffee. Capricorn Coffee is one of the fastest growing coffee brands in the world. They have cafes worldwide and sell coffee, desserts, beverages, snacks, and coffee beans along with coffee accessories and equipment. Capricorn also supports a growing number of independently owned franchises that sell Capricorn-branded beans, equipment, and other products.
The Capricorn Coffee marketing team wanted to use content to build higher-levels of engagement and brand loyalty. Working with the company's IT and development teams, they turned to Salesforce CMS. Why? The team liked the fact that it would let their five geographically dispersed content teams update all their digital channels, including their main website, B2B storefront, and mobile app.
Over a series of five blog posts, we'll follow along as the developers at Capricorn Coffee support the marketing team's efforts to use Salesforce CMS to create and manage beautiful, contextualized, and content-rich digital experiences across channels.

Gaining flexibility across channels
With Salesforce CMS, you can create and manage content and then deliver it to multiple channels. This means that users like Capricorn can create content in a single location and use or reuse content across different channels. With Salesforce CMS, content creators at Capricorn will be able to author content once and use the same content across the company's main website, B2B shop, and mobile channels.
Note: The first set of channels Salesforce CMS will support in the Winter '20 GA release includes all experiences built using Community Cloud, such as self-service and customer portals, sales channel reseller portals, and B2B commerce sites.
Here's a quick overview of the process Capricorn used to support three Salesforce Communities with content using Salesforce CMS:
Capricorn creates the content in the CMS App (1), then shares it with one or more channels. For Winter '20, they can share content with all Lightning and Visualforce Communities (which also includes B2B storefronts) (2). Capricorn curates content for individual communities (Lightning only) by tagging it with topics or curating manual and dynamic collections (3), and then add it to their community pages (4). Users can see the content once the community is published (5).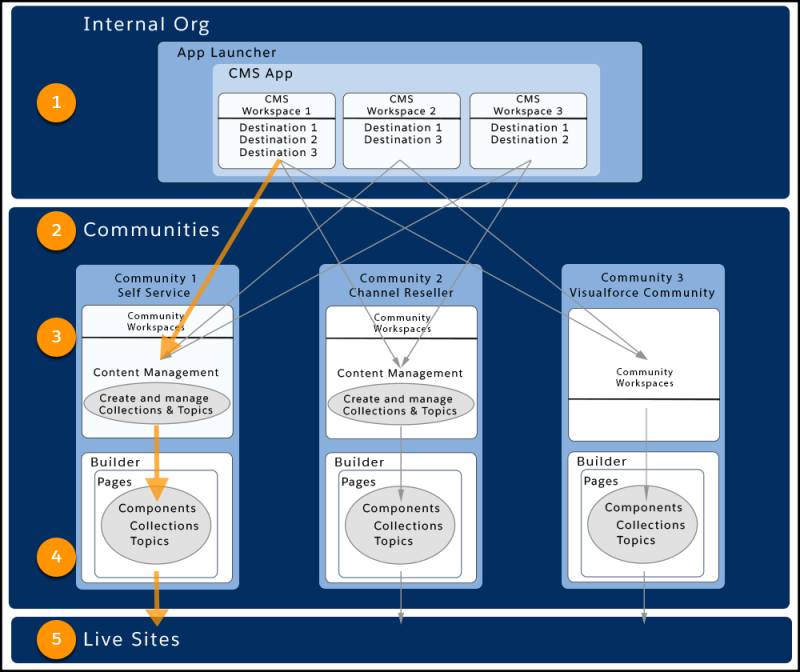 Now, we'll explore the how of Salesforce CMS. Follow the same steps as Capricorn to create your own rich experiences with content.
Use the CMS App to Create Content guides you through Salesforce CMS setup, including how Capricorn created workspaces and provided contributor access to workspaces. You'll learn how to set up channels, publish content to channels, and select which languages the content supports in that workspace. We'll also show you how to create content types and build content using these types. Below, you can see a list of sample CMS workspaces created for Capricorn.

Content Curation in Salesforce CMS guides you through how to create managed content topics. Following the same steps that Capricorn takes, you can associate topics with available content and curate content into collections. You'll also learn how to create dynamic and curated collections using the delivered content. You can then create content collections and treat CRM as content.
We included a list of content that Capricorn published below. In the next screenshot, we show the curated collections.
Use Layouts to Unleash the Power of CMS shows how Capricorn merchandised content and collections. You can turn to this post to learn how to create digitally rich experiences using powerful layouts in Builder.
Content Delivery API to Extend or Integrate Content shows you how Capricorn built a unique experience not supported by out-of-the-box layouts. The post explores the two options available, which are using the public delivery API with Aura Lightning Components to build a custom experience or integrating content into a Visualforce Community.
Summary
With Winter '20, Salesforce CMS supports Lightning and B2B (Visualforce) Communities. After reading these blog posts, you'll be ready to join Capricorn Coffee in utilizing everything Salesforce CMS has to offer. Get ready to roll up your sleeves and create some amazing digital experiences.
Still facing some issues, have questions, or want to share feedback? Visit the Salesforce CMS Trailblazer Community, and leave us a message. We will get back to you.
Resources
About the author
Manish Kumar Jha
Manish is SMTS at Salesforce and is based out of Hyderabad, India. You can connect with Manish at LinkedIn.